For months before I left for Africa, I searched and searched for the right advice of what to wear and how to pack light. I asked a range of people from fashion bloggers to seasoned travellers to Africa. I found it difficult to get the right advice as many of these people had either not travelled to Africa, or they found it hard to give advice for a plus size person. In the end, I just took parts from everyone's advice and put together what seemed like the best solution. Now that I have been and tested it all out, I decided to write this blog in the hopes that it might help others out there who are considering travelling to Africa and find themselves in a similar situation.
If you taking a very tourist holiday with no bush walking, then it really won't matter too much what you take or wear. You can take a hard-cased suitcase on wheels, lovely sandals, resort wear, or whatever you like. BUT… if, like me, your holiday consists of humanitarian work, bush walking and tracking, welcome ceremonies, teaching in a school, visiting animals and a range of accommodation from open air chalets, to resorts, to glamping, then your wardrobe will be completely different!
1. Shorts
Here's the thing about the colour of your shirts and shorts in Africa if you are either doing humanitarian work or going bushwalking…. You MUST stick to earth colours/khaki. As much as you might cringe at that and it sounds like a cliché from an old movie, there is a very good reason – SAFETY! To keep you safe from wild animals and tsetse flies (who love blue!), you need to stay away from black, white, blue and any other bright colours through the day. Rangers will REFUSE to take you out walking in reserves or parks if you are wearing bright colours/black/white. At night, or while you are not in the bush, you can wear whatever colour you like. The other reason for these colours is that when you are doing manual work like aid work, these colours hide a lot of dirt and dust from you activities through the day. You look presentable a lot longer.
Depending on how often you are able to do your washing will depend on how many pairs of shorts you will need. I found 4 pairs plenty for 3 weeks of travelling. Out of these 4 pairs, make 3 of them earth colours/khaki and one a dress pair of shorts such as blue denim shorts that you can use if you are staying in a vehicle viewing animals or in transit.
Believe it or not, my shorts were just coloured denim shorts from Big W. They were only about AUD$15 a pair and are a good quality. I did a lot of my shopping for this trip in department stores because I knew I would be getting into hot, dusty situations and might possible rip clothing. It also means that if you need to throw it away because it is ruined or you have no room in your luggage to bring home all those souvenirs, you aren't throwing away large amounts of money.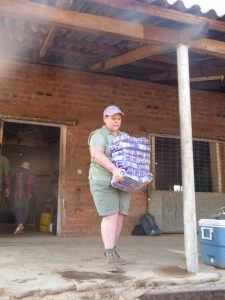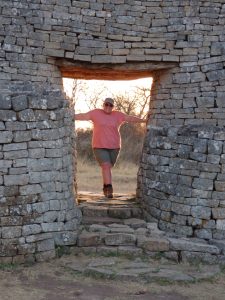 2. Shirts
You need a combination of four different types – tees, tanks, button through long sleeve shirts and a fleece/jumper.
I took two types of tees – 3 of the earth coloured/khaki ones for the bush/humanitarian work; and 4 other coloured/striped/patterned ones for either wearing out for dinner, to go with my skirt for teaching in the school or being in transit. My khaki ones come from Kmart. My four other shirts were a mix of a striped one from Big W, a coral lace-backed one and a cream one from Autograph, and a red one from Crossroads to go with my skirt/jeggings.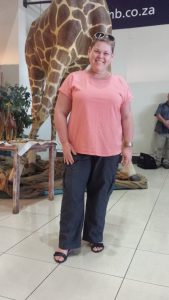 Long sleeve shirts serve two purposes – during the day it can give you sun protection, and during the night it helps keep you warm if on night drives/safaris. Plus it can assist with being bitten by mozzies. 2 long sleeves worked well for me – one earth coloured/khaki for during the day in the bush and one chambray shirt for nights or in transit (just be careful of the tsetse fly – spray your chambray shirt with insect repellent before you wear it to keep them away).
Tanks are handy to wear under the long sleeve shirts or while in transit/out of the sun to keep cool. Again, stick to the earth colours/khakis/greys. I picked mine up from Kmart, but just find ones that you are happy with as the fabric, stretch and fit of a tank can alter on how it fits over your curves. What I like in a tank is different to what you might like in a tank. It's a personal choice.
Just take one decent jumper, fleece or jacket. You might need it unexpectedly like I did when I landed in Johannesburg on my first day in Africa at 5:30am and it was 4°C! Brrrrr! It also comes in handy for night drives/safaris, especially in open air vehicles. I took a light, grey coloured fleece, but you could take a denim jacket instead. Anything that provides you warmth. Colour isn't too much of an issue unless you are going through winter and doing walks.
3. Pants
I only took three pairs of pants with me the entire trip and found this was more than enough. These were a pair or earth-coloured cargo pants, a pair of blue jeggings (you could easily take skinny jeans instead but I found jeggings more light weight for both packing and wearing), and 1 pair of 3/4 black leggings. My cargos are from Kmart, jeggings were from Crossroads and leggings from MadLegs. I only wore the cargos if I was in transit, to my World Vision visit as it was out on my child's mother's property WAY out of town, or while bushwalking to stop any scratches from bushes. I often wore my jeggings and leggings to dinner or while in transit.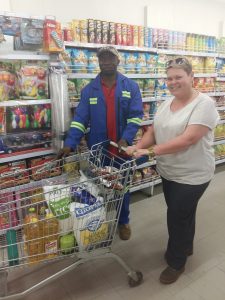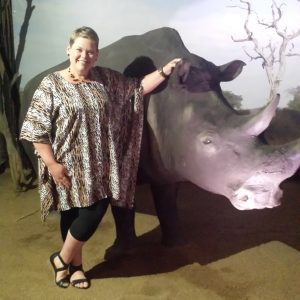 4. Skirt & top or a dress
This comes in handy for those cultural situations/visits (for me, this was teaching in a school). They also come in handy for when you are going to dinner. It just gives you a bit of a lift and makes you feel a little more presentable and different to wearing your khakis in the heat all day. You can mix the top up with your jeggings/jeans too if you like.
The most important thing here is the length of the skirt or the dress. In Africa, the women only wear skirts and dresses because of their religious background. They don't wear pants and none of their hemlines are above the knee. I knew I was going to be entering into a school and I wanted to show respect as well as be viewed as a respected teacher by the staff, students and community. I didn't want to offend them, seem insensitive or seem like 'another tourist'. Therefore I took a mid-length skirt and matching top with me from Crossroads (a dress of the same length would also have done the trick).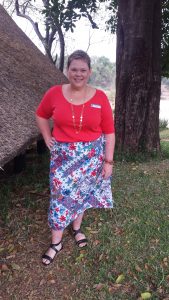 5. Swimwear
Any swimming is undertaken in pools. DO NOT go swimming in ANY sort of waterways for two reasons – crocodiles and insects! Because you are swimming in pools, wear what you would normally wear in a pool back home and feel comfortable in. If you are concerned about the sun, maybe take a rashie. Companies such as Sequin and Sands have a range of flattering swimwear from Capriosca Swimwear. One of the full piece swimsuits even has little flutter sleeves and a zip front so it's like a full piece and a short sleeve rashie in one – a good space and weight saving option for travelling, and very fashionable at the moment.
6. Sleepwear
It can get quiet hot at night if you don't have the luxury of air conditioning. Sometimes you can be sleeping in rooms with no fans and therefore you need to leave the window open and other times you could be sleeping in open air chalets. If this is the case, they will provide you with mosquito nets due to issues such as malaria. Even if you do find a nice breeze, it can still be quite hot. Add in the fact that you are usually sharing a room with a fellow traveller.
I found the best thing here was a three-quarter length sleepwear bottom made of a cool, breathable fabric, such as the ones from Said She Loungewear, teamed with a simple co-ordinating tank (again, I bought my coral coloured tank from Kmart). Pukka PJs also do an all-cotton 3 piece set that would also be suitable.
7. Accessories
A scarf – for night drives/safaris. I took a blush/pale pink coloured one from Rockmans. It was a versatile colour that went with most of the colours I took with me. It also made me feel a little more fashionable if I wore it to dinner.
1 over-the-shoulder clutch – I found this soooo handy. I used it for general shopping as well as going to dinner. Mine (just from Kmart, believe it or not) was big enough to fit my phone money and passport in it.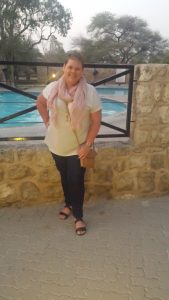 2 hats – one an earth coloured/khaki/grey cap and one a small straw hat. There are times were you need one over the other. Some companies, like Barefoot In Africa, will actually give you a logo cap for your trip.
Sunglasses – any pair that suits you and cuts out the glare. I took my aviators from Glasses Shop. I tend not to take expensive brands while travelling in case I lose them or they get stolen.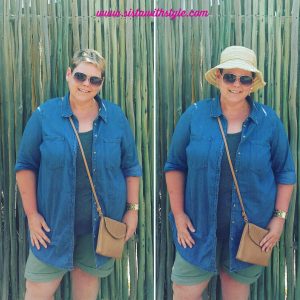 8. Footwear
1 pair of good walking boots – Your shoes don't have to be expensive hiking boots, just as long as they are study, supportive and have a sole thick enough that should you stand on a thorn, it won't come through to your foot. Thinner sole fashion sandshoes don't usually have a thick enough tread. The grip needs to be very good too. It can be easy to slip on gravel or a rock when bush walking. I took with my Colorado high-top boots. I prefer high tops because it gives better ankle support and a little more safety when it comes to snakes (not that we ever saw one in the wild on the ground – in trees, yes – but not on the ground).
4 pairs of bamboo socks – I prefer bamboo socks because of the way this material deals better with sweaty feet and keeping the feet comfortable. It's very important to keep your feet comfortable. It can be the difference between a good holiday and a bad one!
1 pair of sandals – I took a pair of black Penni Frankie 4 Footwear sandals. They doubled as my shoes for my teaching outfit as well as something nice to wear to dinner. Take a pair that will be versatile in many situations.
Thongs or Crocs – Whenever I travel, I always take my trusty Havianans. Great for casual walking or transit travelling, as well as showing in if your amenities happen to be not up to your standards, or even as a pair of slippers at night. A pair of Crocs would also do the job.
9. Luggage
Definitely take soft luggage over hard luggage. The reason for this is that you may be in some different types of ground transport. Hard-cased suitcases are MUCH harder to manoeuvre into minivan boots than soft luggage. I took my trusty "back-packer" style bag that I've carted all over the world. While this did the trick, I found it very tight to fit in any souvenirs on the way around/back and ended up buying another small, soft piece of luggage in which to get everything home. Perhaps buy a decent sized one that may have two wheels on the end that is only three-quarters full on the way over and full on your way home.
Hand luggage – definitely take a good day back pack that you can use through the days, when on safari, bushwalking, carrying your scarf/jumper on night safari drives, store your camera in, etc. You will find it invaluable.
Apart from all of these clothing items, you will obviously need to take all the usual toiletries, lotions and potions. I'm not going to advise you on these items as that is very personal and dependant on your individual needs. But whatever you do, DO NOT forget your sunscreen and insect repellent! You will need them every day!
Lastly, make sure you register your trip with Smart Traveller and BE SAFE! If you listen to safety advice and never go wandering off alone, you will be fine and have an awesome trip!
And now, sistas, I think I will leave this blog post here. It's rather a long one but if I had known all of this in the beginning, it would have saved me a lot of time and I could have planned a little better. I hope you found it useful (and maybe a little interesting/entertaining). As I said, I am only commenting on what to wear if you are going on a similar holiday to me. I could write a whole other blog on the clothes to pack if you were resorting and not getting out of a car at all on your safaris.
I'd love to hear about your style adventures to Africa. Maybe you have some other tips you found helpful when you travelled there? Please feel free to share your wisdom in the comments below so we may all benefit. If you have a questions about something also, leave it in the comments and I will do my best to answer it.
Don't forget, you can go back at any time and read Part 1 & Part 2 of this blog series.
Stay stylish, sistas!
Sunset in Zimbabwe, Africa.