I'm always on the lookout for a good pair of pyjamas. When I find them, I just can't keep that information to myself…… Introducing Pukka PJs. A gorgeous collection of unique, handcrafted, pure cotton pyjamas proudly designed in Australia and made in India.
Pukka is a word that means genuine, reliable, proper, good, "the real deal" or excellent. Originally, it is a Hindi word but a lot of English people have borrowed it. Jamie Oliver uses it a lot to describe when food or dishes he cooks taste excellent.
What attracted me most to this sleepwear is the feel. Not only are they very lightweight, but they are also very comfortable and soft. I also like how in this current hot and humid weather, they allow your body to breathe and do not add to the heat. When you are sleeping, they don't seem to bunch up in a big knot either or make you feel constricted.
Nisa – Sweet Dreams in Indigo
Pukka PJs are sold as a three piece set. You can either wear the pants with the kaftan top or the tank top. In the months where it is a little cooler, you can wear all three together.
The design of these pyjamas also means that they don't look like pyjamas. As my sister said when I introduced them to her, they are perfect for stay-at-home-mums with young babies (like her) because it means if the parcel man comes to deliver a parcel in the morning and you aren't quite out of your PJs yet, no one would know the difference. They look like dress clothes. I'm even tempted to wear my kaftan top with my denim shorts!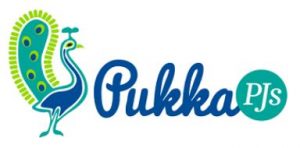 Pukka PJs are not only fabulous but are also unique and hand made – yet affordable – reflecting generations of skill, culture and tradition married with modern aesthetics. They have a provenance that values human creativity and imagination over mechanised mass production and is committed to safeguarding traditional craftsmanship. To hear more about the company and the story behind how these threads are delicately printed, head to the website.
So now that I have shared this little secret with you, the only thing left for me to show you are a few of the colour combinations. You can find even more on their website. I'm sure you won't be disappointed because these pyjamas are just pukka!
Stay stylish, Sistas!
Vasanta – Colour Burst in Pink Lilac
Kavita – Poetry in Motion in Sea Foam Copper
Rocana – Starlit Heavens in Green Apple
Dipti – Pure Beauty in Aqua Multi
PrakRiti – Mother Nature in Pink
* The indigo set of Nisa – Sweet Dreams Pukka PJs was gifted for my editorial consideration. The other sets were loaned for photographic purposes. This is not a paid endorsement. Please see my disclosure policy for further information.