Life is precious. You only live once, right? After surviving cancer, that belief of living life to the fullest and how important it is to do those once-in-a-lifetime things hits home just that little bit more. You realise (or rediscover) the need to live your life and grab every opportunity that comes your way. It's very common to spend some time fine tuning your "bucket list" at various points in your life, like going through a major illness…. or in my case, adding to it!
But why are "Bucket Lists" so important?
Bucket lists are important because they are something that adds value to your life and gives you a focus. We get so wrapped up in our day-to-day living that we forget to actually LIVE life or do the stuff that feeds our soul. Focusing on that adventure or thing you want to conquer actually relives stress and gives you that feeling that you are content before you 'kick the bucket' (hence the name "bucket list"). I know having a focus of going to Hawaii once I was cancer-free certainly gave me something to focus on while I was ill.
Bucket lists are also important because they challenge us. They put us out of our comfort zones. They even scare us a little sometimes. A good friend of mine made a list for 2016 called "52 things to do in 2016". Number one on her list was to do a nudie run! It certainly challenged her and put her out of her comfort zone (as it would most of us). By New Year's Eve 2016/2017, she had done everything on that list EXCEPT the nudie run. So guess what she did that day? Yep – you betcha! She did the nudie run on a secluded beach and completed her list! Can you imagine the happiness and spirit of adventure she must have felt once she had done it?
Put simply, bucket lists are about goal setting. Believe it or not, goal setting makes us happy. There is a satisfaction or fulfilment in ticking off those goals or things on our bucket lists. But the most important thing about a bucket list is that they are YOUR DREAMS, no matter how small or how big. It's all about YOU and what YOU find value in. Everybody's list is completely different and no less important to anyone else's list.
In 2016, I got to tick off a few things on my list and make it that little bit smaller. Some of these things were things I've had on my bucket list for a very long time. Some of them were very recent things. But they were MY things. Things I have found value in achieving. Things that brought me great happiness. This is what I got to tick off:
♦ Go on safari in Africa and see giraffes (& the other animals) in the wild
♦ Teach in an African school – A Year 4/5 class at a school in Zimbabwe. I taught English (reading and grammar), Science and a lesson on the difference between a white rhino and a black rhino!
♦ Volunteer or give aid to people in need in a foreign country in person – Drought relief food packs for a village in Zimbabwe which the children at my school did the fundraising.
♦ Meet my World Vision boy I have been sponsoring for the last 15 years! – Unfortunately, I cannot publish my photos with my sponsor boy in a public forum due to the Code of Conduct contract I had to sign with World Vision in order to be allowed to meet him, but I can publish some of the buildings where he lives.
♦ Eat a traditional African meal in a village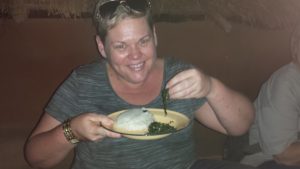 ♦ Turn 40 in Africa – The two highest places in Kruger National Park on my birthday.
Of course, to tick off these things, I had to actually TRAVEL to Africa (oh, how terrible for me – NOT! Ha ha)… which I did in October. It also meant I needed the right wardrobe to do so. Make sure you tune into Part 2 of this series where I talk about holidaying with a conscience in Africa, as well as Part 3 where I go into detail about what to pack if you are travelling to Africa on a similar adventure to myself. Until then, I hope you find happiness in creating and completing your own bucket list!
Stay stylish, sistas!