You've probably noticed that one of the hottest fashion trends at the moment would have to be the 'off the shoulder' or OTS top. They are soft, flowing tops that expose the shoulders, yet still have a sleeve, and are usually very flattering. They can be dressed up or down and are just perfect for those summer barbeques and back yard parties we love to attend over at this time of year. Many people, including myself have embraced this season's latest look, but there are many out there that are still hesitant to do so.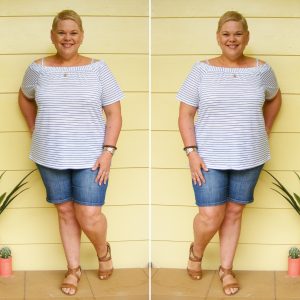 One of my many OTS tops.
There are a number of reasons for this, such as "I'm too old to wear such a top", or "I'm a curvy girl and can't get away with it", or "I don't think I have the confidence to wear such an exposing top" (by the way, the answer to these responses are – Dress for you attitude, not your age; I'm a curvy girl and I get away with it; and, Just try it! You won't gain the confidence if you don't try it). But the most common one I hear is actually not about the top itself, or having the confidence, but actually the wearing of the bra underneath it.
Wearing an OTS top means that shoulders are exposed and any bra straps can be seen. Therefore you need to wear a strapless bra or go braless! Being a curvy girl usually means that going without a bra is not a practical option, therefore you need to find a good strapless bra that does the trick! But where in Australia does a curvy girl find a very good, supportive, strapless bra that keeps "the girls" up and in the right place, especially if you haven't worn one in a very long time (if at all) and your confidence in wearing one is a little low?
Recently, I had a reader with just this same conundrum. Let's call her Carol (name changed to keep her privacy). Carol emailed me for some advice on her problem because she had been following my social media and noticed that I had embraced the OTS craze and was managing to successfully wear a strapless bra. In her emailed she asked,
"I noticed you aren't afraid to wear off the shoulder and strapless clothing. I would dearly love to do this, however, I have never found a strapless bra that works for me [they haven't felt comfortable or stayed up]. Are you able to make any recommendations? I would love some advice."
This got me thinking…. If Carol needed some advice on this topic, then perhaps other gorgeous curvy ladies out there needed it too. So I'm going to share with you the exact same advice I gave to Carol. Are you ready?
I get my strapless bras from City Chic. I prefer to go into a physical shop and try them on rather than buy them online (although there are some great online stores too and not everyone can get into a physical store… more about them in a minute). This is because I like to see how my boobs will sit and that 'all my bases are covered' before I purchase my bra. There are a few other places you can go such as Target and Bras 'n Things (depending on your size), but I find City Chic have the better size range and the best type.
My City Chic strapless bra.
A tip for when buying at City Chic… they often have buy one get one free deals or 50% off deals. This is when I buy my bras from them and save myself some money.
The thing to remember when you are buying a strapless bra is that you need to go up a cup size. For example, if you are an 18DD in a bra, then you need to go up to an 18E in order to get the right support without any straps. This will ensure no spillage out the sides or the top of the cup.
Another option if you are not yet 100% confident to go completely strapless just yet, is to use clear straps on your strapless bra (most of them have detachable straps therefore you can re-attach any type of strap to them). I use the wide clear straps from Bras 'n Things (around $11 a pair) when I want to do this. That way the regular skinny strap doesn't cut into your shoulders.
As for online stores that do plus size strapless bras, you could try:
* Elomi Lingerie – they have various stockist throughout Australia that sell both online and in store. Just go to their website and do a search for a store to find a retailer.
* Debras – based in the Blue Mountains. They do stock the above Elomi and many others.
* Big Girls Don't Cry Anymore – based in Brisbane but they also do online. They have ranges that go up to a size 26 and even to an "I" cup! I bought my bridesmaid's strapless corset for my sister's wedding from here 3 years ago. It was very comfortable, even on a fresh cancer lumpectomy scar/wound. They are also a big supporter of the Fab 14+ Market here in Brisbane (a clothing market for plus size clothing).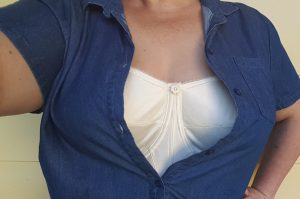 My Big Girls Don't Cry Anymore bridesmaid strapless corset.
* Buxom Envy – online store coming soon. They are based in Adelaide and do take appointments for fittings. Keep an eye out for their online store!
* Google "plus size strapless bra Australia" and you will get a few more companies. However, most only go up to 18G or 20D.
These online companies are very experienced at what they do and are only too happy to help you out. They are a really good alternative if you don't have suitable stores that are convenient for you to go into and try on a bra.
One last tip before I let you loose in search of that perfect OTS top and strapless bra… I try to go for a strapless that is fairly straight cut or moulded across the upper cup. I find ones that are curved or plunge in the middle tend to lead to wardrobe malfunctions if you are carving up the dance floor or doing anything where your boobs may move or bounce around a little.
Oh… what happened to Carol, I hear you ask? Well, Carol emailed me on Monday to say that she went in to City Chic on Saturday and has now purchased, and successfully wore, her new strapless bra! She reports that it felt a little strange at first but it stayed up! Phew! I'm glad, Carol. I was so chuffed that you found your strapless bra confidence and you were able to wear that OTS top (by the way, she sent me a pic of her in her top and she looked FABULOUS! Go Carol!).
Tell me sistas…. Have you got any other good shopping tips/businesses for locating that perfect strapless bra for the fuller figure? Perhaps you are a retailer of plus size bras and would like to let us know how we can find you? Please share it in the comments below so where have some more options to explore.
Stay stylish, sistas!