Juggling a hectic schedule is a challenge for every modern woman. Sometimes outfit changes just aren't possible between when work finishes and when that night time function begins. In these situations, you need something simple and easy to take your outfit from daytime work professional to night time glam. Here are a few styling tricks to have up your sleeve to take you from day to night.
1.

      

Choose versatile clothes
Before you even get dressed in the morning, take a few moments to plan your day. Think about which pieces in your wardrobe are going to be versatile enough to take you from day to night. Keeping your clothing to simple, fairly tailored, classic pieces is not only very flattering and classy, but also means you can do much more with it. Things like a simple black dress, tailored pants or a classic blouse can all be dressed up or down. The more versatile the piece, the easier it will be to style and transition.
2.

      

Monochrome
Monochrome fashion is something not to be ignored. It very crisp colour combo is a look that is very simple, classy and effortlessly chic. It is the perfect 'base' to take your outfit from day to night when used with a number of the other tips used in this blog post.
3.

      

Wear a top with detail under your jacket
If your work is a little more corporate or conservative and requires you to wear a jacket through the day, then removing it at night to reveal a top with detail or a little more skin can often be easy and quite attractive. Another way is to wear a sexy camisole under your blouse that you can reveal later in the evening.
4.

      

Jacket layering at night
Jackets can also be added at night time. If you work at a location that requires you to wear quite basic looking clothing, then adding a jacket can take your outfit to a whole other level and really pep it up. Have some fun with your jacket and try a little colour, a print or a jacket with some embellishments. Add a blazer for a more sophisticated look or a bomber jacket for something more casual.
5.

      

Plan your jewellery
Jewellery plays a major role in taking any outfit from day to night. When in daytime mode, keep your jewellery to a minimum and wear pieces that are simple and classic. Keep a few statement pieces, like chunky necklaces or sparkly bracelets, in your handbag for later on to glam up your outfit.
6.

      

Statement earrings
This is a major trend right now. Large hoops, shoulder dusting tassels or stunning chandelier earrings can take your look from corporate to cocktail in a matter of seconds when added to your night time outfit.
7.

      

Switch your shoes
Consider trading your flats for strappy heels or changing your neutral pumps for something more sparkly.
8.

      

Pop that lipstick
You don't always have the time to completely refresh your entire make up. Changing just your lipstick colour from a more subtle or neutral colour through the day to a more vivid colour at night might be all you need to make your outfit transition into the night. It can also give you that fresh spring in your step to enjoy your evening. It's amazing what a pop of colour can do!
9.

      

Scarf
Scarves are so versatile because they can layer like clothing or adorn like a necklace. They can be tied on your bag as an accessory or keep you warm if wrapped around your shoulders and arms. They come in such a variety of sizes and colours that you are bound to find more than just one to suit your outfit.
10.

  

Switch your handbag
Switching your roomy tote handbag for a glitzy clutch or a colourful across the body bag is the easiest and simple ways to go from day to night.
As long as you are not limited the wearing a uniform, these style tips should make your transition from day to night much easier. You don't need to use all of them together, but just one or two should do the trick.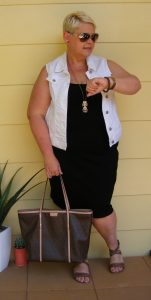 Daytime outfit
Dress: City Chic  Jacket: Crossroads 
Shoes: Frankie4 Footwear  Tote: DKNY
For me personally, my "go to" wardrobe to take from day to night is a black body con dress with a white, sleeveless denim jacket. At night, I ditch the jacket, change my lipstick, add a scarf and switch my bag to a clutch that compliments my scarf (incorporating tip numbers 1, 2, 8, 9, and 10).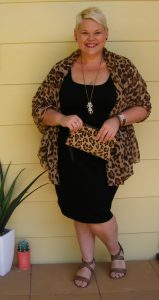 Night time outfit
Clutch: iCherry Shoe Store  Scarf: eBay  Watch: Michael Kors
If my night time occasion is a little less formal, such as going to the movies, then I keep the vest, change my lipstick, switch the bag for a cross body bag and take the scarf tied around the strap of my bag in case I get cool from the air conditioners in the movies (which means I use tip numbers 1, 2, 8, 9 and 10 but in a different way).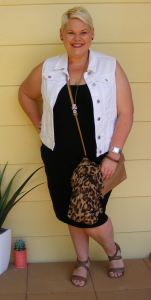 More casual night time outfit
Cross body bag: Kmart
I hope these little tricks help you out the next time you have one of those long days where you don't have time to go home and change. Perhaps you have some other tips you use? Share them in the comments below and help a sista or two out.
Until next time, stay stylish!