Have you ever wondered what exactly is a capsule wardrobe? Have you ever wanted to know how to put one together without the headache? Or perhaps you want to know where to buy one and save yourself the hassle of running around trying to find all the pieces? Well, that's where I can help! 
The term 'capsule wardrobe' is simply an on-trend name for a small collection of useful clothing that changes with each season or situation and forms the backbone of your closet. The pieces are mixed and matched to form a number of outfit combinations that fit your personality or lifestyle. Capsule wardrobes are all about practicality and minimising. They eliminate closet chaos and minimise having to stand in front of the mirror each morning, trying on 10 outfits before actually finding something to wear.
Over time, the Sista With Style's wardrobe capsule review series will showcase various curvy girl capsule wardrobes so that you have some practical ideas of different capsule collections, how to mix and match the items and where to buy them. Some of them might be capsules already gathered by a particular company. Others may be ones which have been compiled by myself because I have found them a practical combination through my experiences. Either way, they will save you time and headaches trying to put together your own.
Today's capsule is one styled by the online company – The Birdsnest. The girls over at The Birdsnest do a great job of putting wardrobe capsules together. There is one for almost every personality (and I have multiple personalities, so that suits me! Ha ha). They only contain 6 pieces per capsule, keeping costs low.
This particular capsule is called "Keepers Capsule" and has a little bit of a country chic vibe going on. I am far from a country girl and can easily see myself wearing these pieces in the city. Some of them you could even style up with further items for the high-glam city look.
I've chosen this collection as the first one to review because the weather is now getting cool, and even though on their own they only make six combinations, when other pieces are added in, they form an endless canvas. It's a basic yet classy and versatile capsule with room to expand to other items.
So let's have a look at it, how they have mixed and matched the pieces and how I've also styled them.
 The 6 pieces…..
Plaid Button Through Shirt       Zip Detail Ponte Pants        V Neck Cotton Tee
Everyday Blazer in Port  Long Line Side Split Vest  Classic Straight Leg Jeans
How they combined them and how I wore them….
Some easy adaptions or additions to this capsule could be:
The zip ponte skirt – When you click on the capsule online, you will probably notice that in the original capsule they use ponte pants, but in the combination pics, they feature the ponte skirt. You could easily use both like I did in my photos.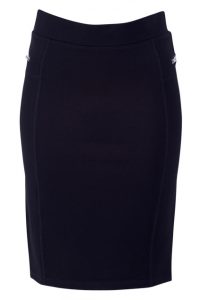 You could switch the white tee out for a black one….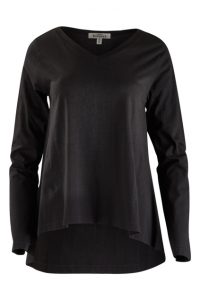 Wear a feature top with one of the bottoms to attend a party or a dinner….
My opinions of this capsule…. As mentioned earlier, it is a good capsule to start with as basics and build on from there. It can be versatile for many locations – from the country to the city and from work to your social life. I personally would prefer to wear a ¾ length tee under this jacket as the jacket itself has ¾ sleeves and then it won't bunch up in the sleeves and create bulk. I also might try a red jacket rather than a port one as the colourings are more to my personal taste (there are many colours to choose from). I like how this jacket is not one that needs to be dry-cleaned – you can just put it in the washing machine. The jacket also has a decent amount of stretch in it, which is handy for people like me with lympheodema in their arm from cancer treatment. The clothes are very well made and should last quite some time, adding a little more value for money. Overall, I would give it 4 out of 5 stars.
This post contains affiliate links. Should you click on them and purchase something, I may receive a very small commission from the sale. As I like to be open with the sistas in my community, I will always disclose this sort of information. You can read more about my Disclosure Policy here.